HDTRACKS REPORTS 20% INCREASE IN HIGH RESOLUTION AUDIO DOWNLOADS IN 1ST QUARTER
-- HDtracks Sales Continue to Grow Across All Music Genres; Company Recently Added Classic Bob Dylan Albums, Complete Cars Boxed Set, Plus Skrillex, Shakira, Foster the People and Many More – All Now Available in Stunning 24-Bit High Resolution Audio --
New York, NY, April 9, 2014 – HDtracks, the leader and pioneer in high resolution audio digital downloads, today announced a 20% increase in sales for Q1 2014 over the same time last year. This continuing trend reflects the growing demand for better quality digital music downloads. Notably, consumer demand for the better sounding music downloads available at HDtracks spans a broad range of music categories and genres, with sales increases seen throughout the label's growing roster of both classic jazz, rock and contemporary pop albums – all available via DRM-free CD and DVD-Audio quality downloads at the highest possible bit/sampling rates. Since the launch of HDtracks in 2008, the company's business has seen significant growth each year, a success that mirrors the explosive, double-digit growth of high-resolution digital downloads overall.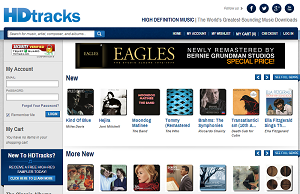 HDtracks recently added three legendary Bob Dylan albums from the Columbia Records era, Blonde on Blonde, Bringing It All Back Home and Blood on the Tracks, as well as new digital downloads from Skrillex, Foster the People and Shakira, all in pristine 24-bit high resolution audio quality. New this month HDtracks will offer high-resolution album downloads from legendary artists and bands, Cream, Blind Faith, Bonnie Raitt, Emmy Lou Harris and the B52s.
At HDtracks music lovers can enjoy their favorite albums in unprecedented audio quality, with a precision, clarity and depth that has been heretofore absent in the digital world. For total flexibility, consumers can often choose their favorite format as well, and many HDtracks offerings are available in either 24/96 or 24/192 bit/sampling rates.
About HDtracks
HDtracks.com is the leading high resolution digital download company in the world. Founded in 2008 by three-time Grammy nominee and highly respected record producer and musician, David Chesky, and his brother Norman, HDtracks saw the possibility for a future model of high resolution audio digital downloads years before the demise of the major brick and mortar music stores. Chesky has been at the forefront of audio technology, having created the world's first 24-bit/96kHz recordings, 6.0 multichannel 24-bit/192kHz DVD-Audio Disc layout, 128x oversampled recordings, and Binuaral+ for 3D sound playback on both loudspeakers and headphones.
###
Follow HDtracks.com on twitter @hdtracks and Facebook: HDtracks or visit us at HDtracks.com.